About us
The chalet Lusitania is located on the sparsely settled slopes of Mt. Desná, in a romantic setting where picturesque mountain meadows give way to thick spruce and mixed forests. The surrounding mountain chalets, renovated in their original style, are used primarily for recreational purposes. In the warmer months, you will find many wild berries and mushrooms growing along the forest paths that are sure to keep the kids entertained while also offering a delicious meal.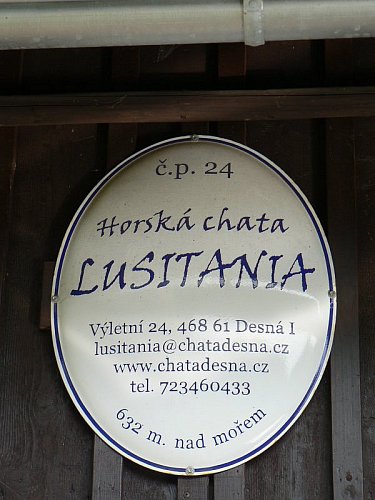 The name of our street, Výletní, translates as "Excursion Road" and reflects the fact the we are located in an area popular for outings by local day-trippers, joggers, and dog-walkers. In the summer, the only sound to disturb the peaceful atmosphere is that of the bush crickets, who grow to enormous size in the nearby meadows. The chalet is easily accessible by car, on bike, or on foot. It is located about 100 meters to the right of the intersection with Sokolská Street.
The picturesque unfenced garden below the chalet features a large fire pit and seating for larger groups of people, but above all offers a beautiful view of the green surroundings and the hills across the valley.
The chalet is perfectly suited for groups of friends, several families with children, or company retreats and team-building.
Short and easy walks will take you to a monument to the 1916 dam failure along the Bílá Desná river (1 km), the Sovín farmstead (1 km), or the hamlet of Novina (2 km). You can also, if you like, climb the 365 stone steps to the hamlet of Mariánská Hora, where you will find a chapel and a plaque dedicated to Friedrich Schiller (4 km). Other destinations include Souš Reservoir (5 km) and the waterfall on the Černá Desná river (3–4 km).
Winter destinations include the ski resorts at Desná-Černá Říčka (4 km by car) and Tanvaldský Špičák (5 km by car), or the starting points for the "Jizerská Magistrála" ski trail near the gamekeeper's hut (hájovna) at Mariánská Hora (6 km by car) or at Souš dam (6 km by car, 3 km on skis).
The Lusitania mountain chalet was presumably built in the 19th century – its earliest entries in the land registry book date to 1832 and 1845. The current owners acquired the building in July 2011. We chose the name Lusitania because of our love for Portugal. Since day one, we have worked to reimagine the chalet in our image, gradually improving the interior and exterior so that we – and you – will enjoy spending time here and look forward to coming back for another visit. The chalet was newly renovated in June 2020 with this vision in mind.